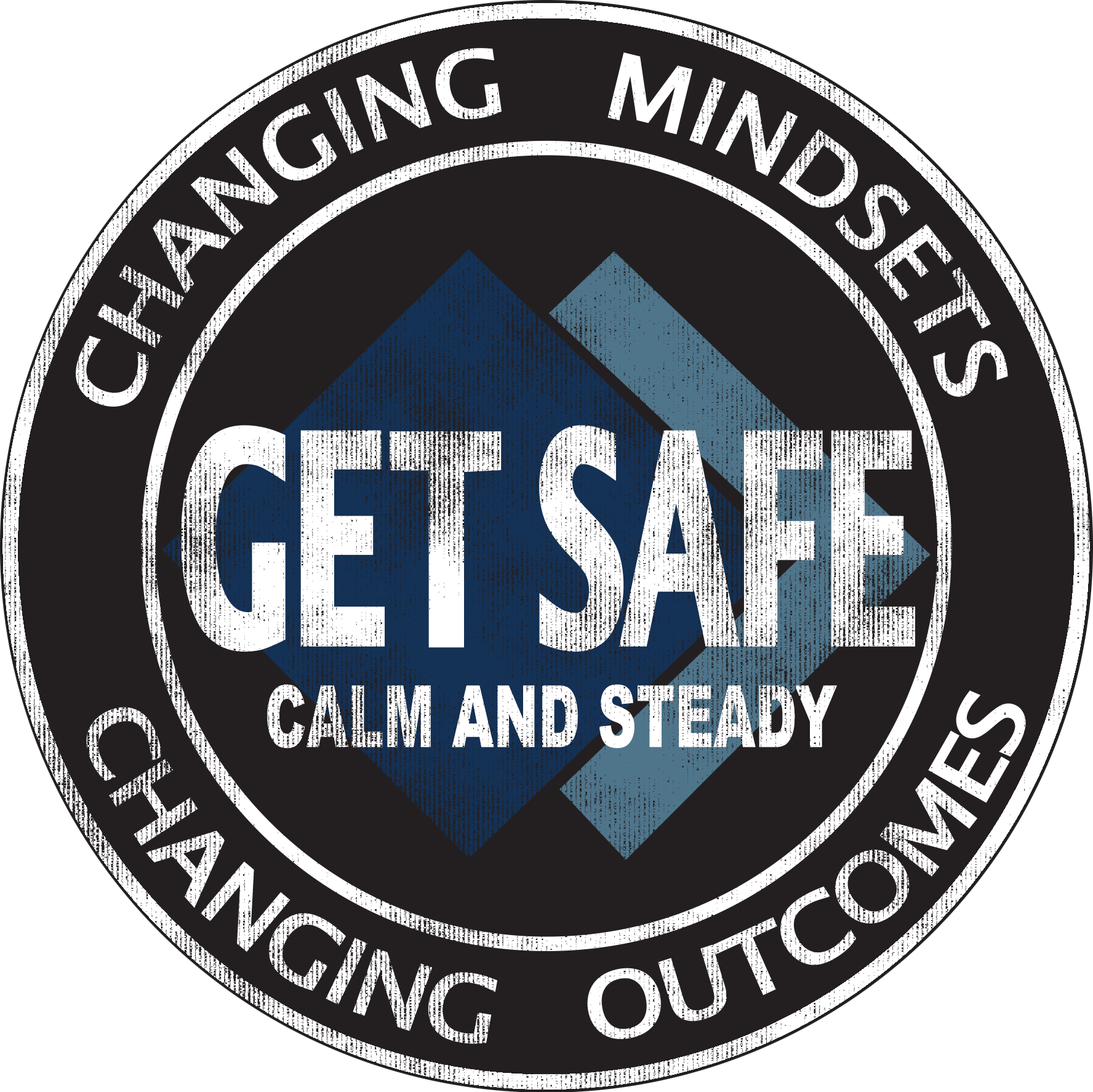 CRISIS INTERVENTION &

DE-ESCALATION
TRAINING

FOR LAW ENFORCEMENT
CERTIFIED BY CALIFORNIA'S COMMISSION ON PEACE OFFICER STANDARDS AND TRAINING (POST)
&
STANDARD AND TRAINING FOR CORRECTIONS (STC)
GET SAFE'S POST/STC-CERTIFIED CURRICULUM IS DESIGNED TO INITIATE A CHANGE IN LAW ENFORCEMENT MINDSET TO MORE EFFECTIVELY DE-ESCALATE TENSE SITUATIONS AND POSITIVELY INTERACT WITH PERSONS WITH DISABILITIES, MENTAL ILLNESS, AND SUBSTANCE ABUSE.
Stuart Haskin, CEO, has 20 years of experience as a reserve sergeant at Orange County Sheriff's, 39 years of teaching law enforcement safety, 30 years of working with survivors of violence, and 25 years of working with persons with disabilities. In 2017, he was asked by POST to be one of 20 subject matter experts from across the state to develop training criteria for all Crisis Intervention Behavioral Health courses. Dave Monderine, Director of Training, has 12 years of experience developing evidence-based curricula for persons with I/DD, survivors of crime, bullying prevention, and various safety and crisis intervention techniques. Get Safe's network of 21 instructors hold nearly 400 years of combined experience working in corrections, FBI forensic psychology, POST administration, dispatch, campus policing, SWAT, patrol, investigations, sex crimes, public defense, and instructing POST-certified courses as Master Trainers.
What makes GET SAFE unique is our dual experience of providing community-based training for marginalized populations who are often victimized by systemic discriminatory practices, combined with a law enforcement perspective gained from training personnel from over 150 law enforcement agencies across California. This depth and breadth of knowledge informs GET SAFE's approach to systemic change in a powerful way. We believe in finding commonalities and understanding, rather than highlighting the differences that divide us. Clearly understanding both sides of the issue allows GET SAFE to effectively bridge communication gaps, increase empathy, and spark a movement for change.
TUITION IS FREE THROUGH PLAN V FUNDING FOR MOST FULL-TIME EMPLOYEES OF POST REIMBURSABLE AGENCIES


OUR TRAINERS COME TO YOUR AGENCY


GET SAFE HANDLES MOST ADMINISTRATIVE DUTIES FOR YOU


2-HOUR PERISHABLE SKILLS: TAC COM INCLUDED IN ALL COURSES


ONLINE WEBINAR COURSES NOW AVALABLE


FLEXIBLE EVENING OR WEEKEND SCHEDULING AVAILABLE
"THIS TRAINING CAN HELP WITH THE PARADIGM SHIFT IN THE WAY OFFICERS VIEW PERSONS WITH DISABILITIES."
- ARROYO GRANDE PD
"EXCELLENT FOR LAW ENFORCEMENT OFFICERS FROM BEGINNING, MID, AND LATE IN THEIR CAREER."
-ARROYO GRANDE PD
"REALLY AWESOME , INFORMATIVE EXPERIENCE! WHAT I'VE LEARNED WILL TRULY HELP ME IN MY CAREER AND WORKING WITH THE PUBLIC!"
- ARROYO GRANDE PD
"VERY INFORMATIVE. EASY TO DIGEST MATERIAL, AND WAS VERY RELIABLE. FRIENDLY ATMOSPHERE AND TAUGHT BY CURRENT AND FORMER LAW ENFORCEMENT OFFICERS."
- LAGUNA BEACH PD
"EYE OPENING AND BROUGHT UP THINGS THAT WE HAVE FORGOTTEN ABOUT, WHICH WAS GREAT!"
- LOS ANGELES SHERIFF'S DEPARTMENT
"GREAT TRAINING, WILL DEFINITELY HELP IN MY DAY-TO-DAY CONTACTS WITH PEOPLE."
- BAKERSFIELD PD
OVER 300 AGENCIES TRAINED