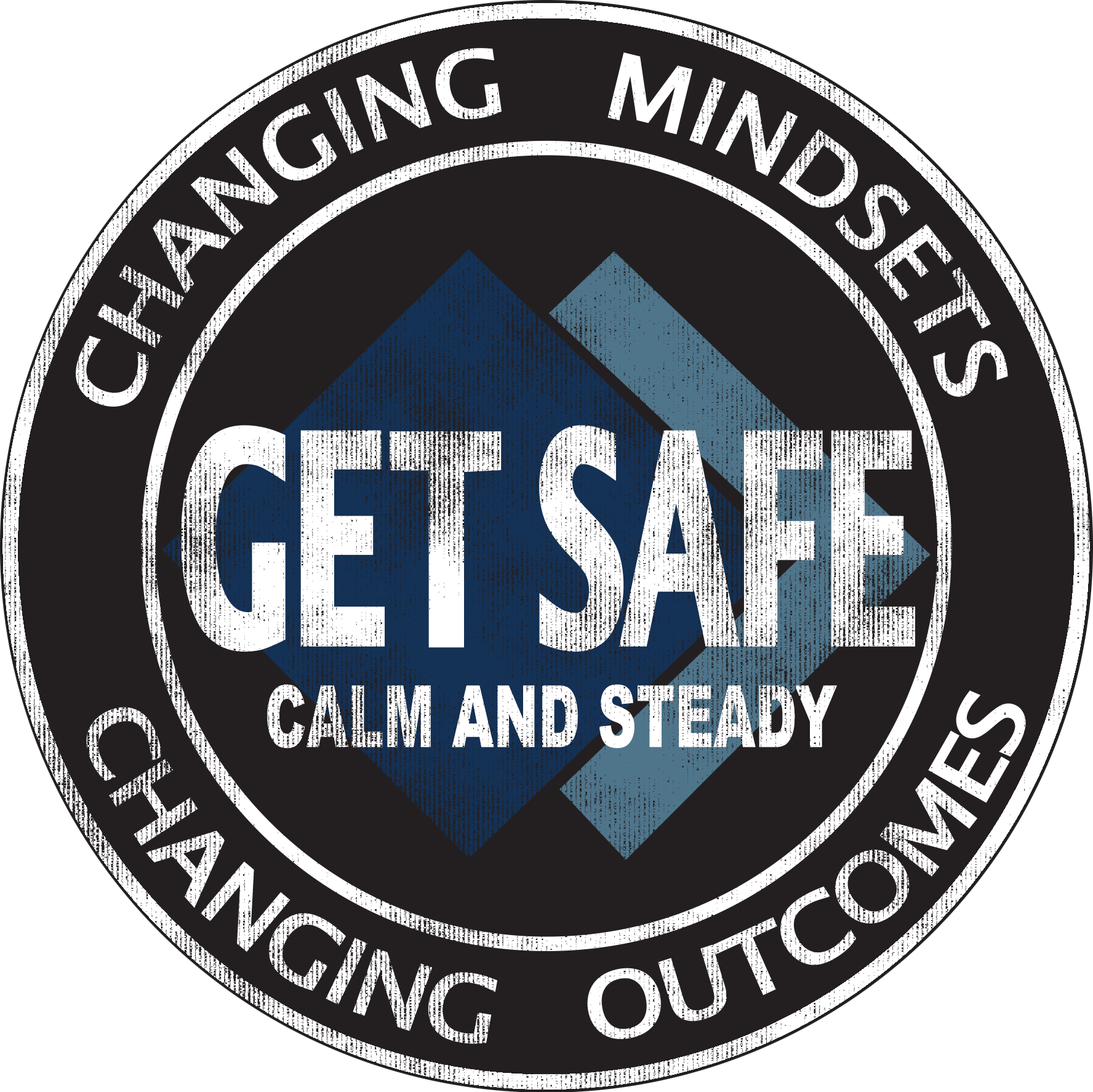 Improving safety by bridging the divide between
law enforcement and the community with communication, understanding, and respect.
GET SAFE OFFERS A VARIETY OF POST-CERTIFIED AND STC-CERTIFIED COURSES TO HELP OFFICERS PERFORM THEIR JOB DUTIES SAFELY.
WE TEACH THROUGH AN OFFICER SAFETY LENS, HIGHLIGHTING
WHY THESE CONCEPTS MATTER OUTSIDE THE CLASSROOM.
Stuart Haskin, CEO, has 21 years of experience as a reserve sergeant at Orange County Sheriff's, 40 years of teaching law enforcement safety, 30 years of working with survivors of violence, and 25 years of working with persons with disabilities. In 2017, he was asked by POST to be one of 20 subject matter experts from across the state to develop training criteria for all Crisis Intervention Behavioral Health courses. Dave Monderine, Director of Training, has 13 years of experience developing evidence-based curricula for persons with I/DD, survivors of crime, bullying prevention, and various safety and crisis intervention techniques. Get Safe's network of 31 instructors hold nearly 800 years of combined experience working in corrections, FBI forensic psychology, POST administration, dispatch, campus policing, SWAT, patrol, investigations, sex crimes, public defense, and instructing POST-certified courses as Master Trainers.
Get Safe has dual experience of providing community-based training for marginalized and victimized populations, combined with a law enforcement perspective gained from training personnel from over 350 law enforcement agencies across California. This depth and breadth of knowledge informs Get Safe's approach to systemic change in a powerful way. We believe in finding commonalities and understanding, rather than highlighting the differences that divide us. Clearly understanding both sides of the issue allows Get Safe to effectively bridge communication gaps, increase empathy, and spark a movement for change.
SOME COURSES TUITION-FREE THROUGH PLAN V OR PLAN I FOR MOST FULL-TIME EMPLOYEES OF POST REIMBURSABLE AGENCIES


OUR TRAINERS CAN TRAVEL TO YOUR AGENCY


GET SAFE HANDLES MOST ADMINISTRATIVE DUTIES FOR YOU


PSP STRATEGIC COMMUNICATION INCLUDED IN SEVERAL COURSES


ONLINE WEBINAR COURSES AVAILABLE


FLEXIBLE EVENING OR WEEKEND SCHEDULING AVAILABLE
"THIS TRAINING CAN HELP WITH THE PARADIGM SHIFT IN THE WAY OFFICERS VIEW PERSONS WITH DISABILITIES."
"AWESOME TRAINING AND VERY INTERACTIVE, CAN SEE FIRST-HAND HOW MUCH THE INSTRUCTORS CARE AND ARE EXCITED FOR TRAINING."
"BOTH INSTRUCTORS USED REAL LIFE SITUATIONS THAT I COULD RELATE TO."
​
"I WAS SKEPTICAL OF THE CLASS ON ZOOM, BUT I FOUND THE TOPIC NECESSARY AND WELL-TAUGHT."
"THE MOST ENTERTAINING SET OF INSTRUCTORS OF ANY COURSE I HAVE ATTENDED!"
"GREAT TRAINING, WILL DEFINITELY HELP IN MY DAY-TO-DAY CONTACTS WITH PEOPLE."
"REALLY AWESOME, INFORMATIVE EXPERIENCE! WHAT I'VE LEARNED WILL TRULY HELP ME IN MY CAREER AND WORKING WITH THE PUBLIC."
"VERY INFORMATIVE. EASY TO DIGEST MATERIAL, AND WAS VERY RELIABLE. FRIENDLY ATMOSPHERE AND TAUGHT BY CURRENT AND FORMER LAW ENFORCEMENT OFFICERS."
OVER 350 AGENCIES TRAINED